USCC is an IT company that focuses on Cybersecurity.
We bring value to our customers by providing IT services that help support the mission and business objectives of their organization. To help protect our clients from the Cybersecurity Threat landscape, and help them increase their security posture, we also provide Basic Security Recommendations (not a full/structured Risk Assessment) to help protect their business. These recommendations are not to be considered a risk assessment, as this is an internal function each client must perform on their end. The customer then reviews our recommendations, and based on their Risk Management approach, implements controls based on their level of acceptable risk for their organization.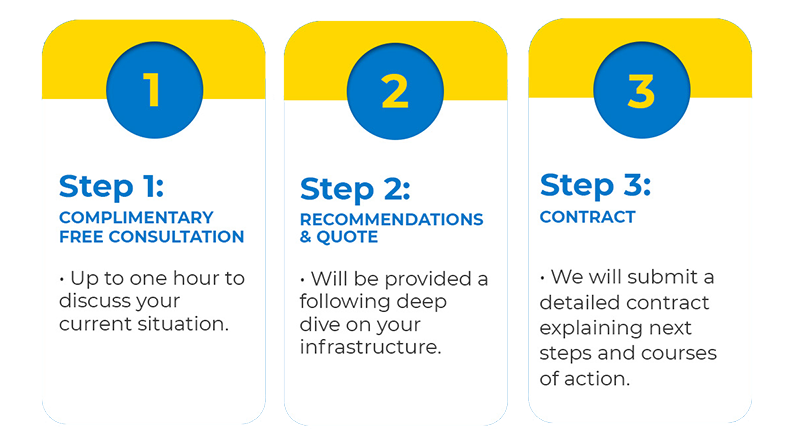 Why is Cybersecurity Important?
Every company has sensitive data and assets they are trying to protect as part of due care.  Protecting sensitive data is also a requirement of multiple legal, regulatory, contractual, and industry standard requirements.  Taking the necessary steps to protect critical assets, perform risk management, and implement security controls is part of due care.
Preparing for a data breach and minimizing its impact can help an organization withstand the devastating and long-lasting effect of a data breach.  Organizations can take steps to ensure they are able to survive a data breach and continue to operate, Cybersecurity is part of a risk management strategy that can help organizations prepare before an incident takes place.
Our Cybersecurity Services include but are not limited to:
Basic Security Recommendations (BSRs)
Microsoft Critical & Security Patch Deployment
Third-party application upgrades via Ninite Pro
24/7 Business grade Antivirus Protection
NextGen Firewalls
Endpoint Protection
Multi-factor Authentication
Advanced Spam Filter Protection
HIPAA Compliant Email Encryption
Strong Password Policy Implementation
Full Disk Encryption
Cybersecurity Awareness Training
Secure Device Wiping with DoD 5220.22M Standard
Log Management for Compliance
VPN – Virtual Private Network Service
Secure Wi-Fi Networks
Industry Standard Password Policy Implementation
Companies are subject to different Legal, Regulatory and Contractual requirements in terms of Cybersecurity, and our Basic Security Recommendations are only subset of items a company would find are applicable and needed during their own internal full/structured Risk Assessment. We establish and maintain a mutually beneficial partnership with customers who are risk averse and decide to mitigate/lower risks by implementing security controls, which helps them exercise due care and due diligence.