Welcome to U.S. Computer Connection
U.S. Computer Connection, Stamford, CT is a leading provider of managed IT services and IT consulting for businesses in Fairfield County, CT, Westchester County, NY and beyond.
U.S. Computer Connection (USCC) is a boutique provider of technology services for small and mid-size businesses. We are experts at designing, building, and supporting network infrastructures of all sizes, and addressing the ever-changing needs of today's businesses. USCC is on the cutting edge of the IT industry, providing managed services for all your technology needs. We offer virtualization of services and support to improve speed and efficiency and offering integration with cloud computing technology – the network of tomorrow. We pride ourselves by delivering top-notch customer support.
To put it simply, we're your friendly outsourced IT department, we're on top of the latest tech trends, and we like to make people happy.
We Take Cybersecurity Seriously
Cybersecurity is at the core of our business from running background checks on all of our employees to providing ongoing security education and following the principle of least privilege.  Everything we do has security as our number one priority.
Passionate About IT
Since 1987, we've built lasting relationships with customers by providing the highest-level solutions and implementing transparent approaches to solve business IT problems.
We treat our customers fairly and strive to improve their business first. We're confident that you'll be able to focus on your business, because we'll be taking care of your technology.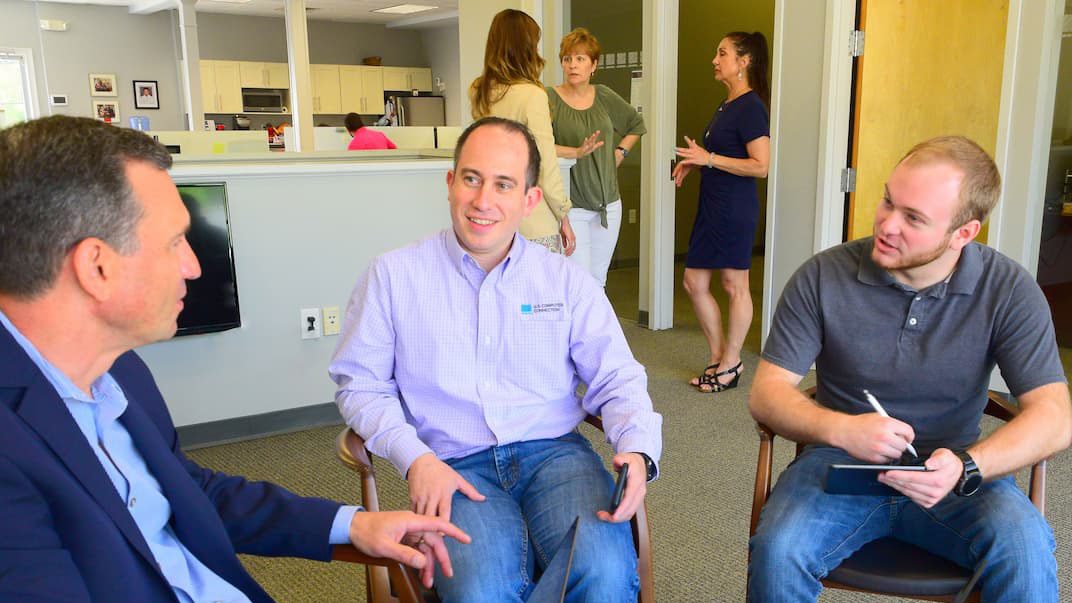 Strategy
Our comprehensive IT strategy and project management solutions include expert advice, planning, guidance and testing to ensure that your technology services best suit your company's business needs. For over 30 years we have helped business like yours grow and adapt to changes in technology. If your technology systems are not helping you achieve your business objectives or meeting your business goals, we can work with you to design solutions that improve productivity and security. Our professional team is passionate about helping others succeed.
35 Years
In Business Supporting Our Clients
98.9
Lifetime Customer Satisfaction Score
Q: What is the Onboarding Process Like?
A: We have a documented and proven process that takes the pain out of switching to a new MSP.
Q: What is a Managed Service Provider?
A: An MSP provides technical supprt to an organization to help ensure its IT Systems are operational continue to support the client's organization's vision, mission, and business objectives and activities. In the process of providing and delivering our services and value to our clients, we strive to
Build trustworthy and long-lasting partnerships
Passionately deliver innovative technology solutions to supprt client success.
Always doing right by the client.
Take cybersecurity seriously
Q: Are you able to provide strategic consulting?
A: We employ subject matter experts in various fields. They are trained, knowledgable, and can help provide guidance on planning, designing, and implementing a security oriented, scalable and efficient IT infrastructure.
Q: Do you offer an assessment to prospective clients?
A: Yes, U.S. Computer Connection will perform a free basic network assessment for prospects which will identify things like security vulnerabilities, active directory review and inventory reports.  You will be surprised by what we find.
"Attentive response with helpful and cheery disposition."
—
Nancy S.
"Chris went above and beyond to help with the problem."
—
Yulia L.
"Mine was an emergency and your team responded fabulously and successfully, followed up appropriately. Many, many thanks."
—
Brad S.
"Juan is always so helpful.  He is quick to respond and fix the issue.  He is the best."
—
Mary S.
"Extremely friendly, fast and issues are fixed.  I would recommend this company to anyone."
—
Tinisha B.
"I am as always, satisfied with the prompt care and time taken to help educate in the world of technology while having my issue resolved!  It's always a pleasant experience in a time of an adverse situation.  Thank you for coming to the rescue!"
—
Kathy M.
"Jens was incredibly helpful with my computer set up and even followed up on something that I had mentioned I would need to do later."
—
Elizabeth K.
"Kathy was friendly, knowledgeable and quick."
—
Jane E.
"Problem fixed. Responded quickly to request."
—
Anna R.